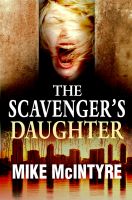 After being suspended from the paper, Pulitzer prize winning journalist Ty West is desperate to revive his career. Luckily for him, there's a medieval serial killer on the loose in San Diego, and Ty is uniquely situated to get all the scoops. With some serious perseverance and a bit of luck, everything seems to be going his way. But things can change in an instant. Chasing down this story may be the most dangerous story of his career, and one false move means Ty stands to lose everything that's ever mattered to him.
A former columnist himself, the author seems to know his way around newspaper business (love the "Wheaties test"). The characterization in this book is well done, and the richness of the detail serves to pull the reader into the story. In fact, I'm a little frightened of the author, due to the impeccable research he's put into the character of Friar Tom. The information about the instruments of torture is exquisite, and really adds to the storyline. Somehow, the author manages to make such a wild storyline believable, and the result is a riveting, and frightening, tale. Told in both first person (Ty) and third person (Friar Tom), it's easy to follow the plot as it builds to its inevitable conclusion.
This was a book I found really difficult to put down. I began reading it on Sunday morning, and I could hardly be parted from my reader all day long until I finished the book. It was engrossing and well- written. Only one typo jumped out at me in the entire story ("you're" instead of "your"), and it was only jarring because I hadn't noticed any others. I'm a big fan of Michael Connelly's books, and I think Ty West may be Harry Bosch's biggest competition. The twists in the story were easy to follow, and I never was lost or confused about what had happened.
5 /5 stars
Available at Smashwords, Amazon
, and Barnes & Noble